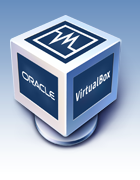 VMware is a leading virtualization solution to run multiple operating systems in a machine. Though it has tightly packed features in its pocket, still it is costlier and proprietary too. In the world of open source, there is an alternative to VMware which is called VirtualBox.
VirtualBox is a powerful x86 and AMD64/Intel64 virtualization product for enterprise as well as home use. Not only is VirtualBox an extremely feature rich, high performance product for enterprise customers, it is also the only professional solution that is freely available as Open Source Software under the terms of the GNU General Public License (GPL).
It is a cheaper virtualization solution than VMware. Apart from the cost it has a nice GUI to manage the virtual machines and also it supports wide range of operating systems. Virtualbox can run in Windows, Linux, Mac OS X and OpenSolaris and also it supports most guest operating systems except Mac OS X. Let's see how to get it done in Ubuntu. My Ubuntu system is 10.04 Lucid.
Installation
Installation is straight forward – Ubuntu main menu -> Applications -> Accessories -> Terminal. Enter the following command to get Virtualbox installed in your machine.
$ sudo apt-get install virtualbox-ose
Now you should see
Applications -> Accessories -> VirtualBox OSE
menu item. Click this to start your Virtual Machine manager.
Configuration
The following screenshots shows how to create a virtual machine for Windows 7 for example.
This should create a virtual machine suitable for Windows 7 installation. Now you configure this machine by selecting Settings button on top tool bar. You can select your DVD drive to map to virtual machine DVD drive. Insert Windows 7 installation disc in your machine. Start virtual machine (ensure that DVD drive is selected first in boot order in settings dialog) to start with Windows 7 installation.
Typical virtual machine configured for MeeGo Linux
I have installed MeeGo Linux in one such virtual machine. The below screenshot shows a typical configuration for this.